A sports guard or gum shield is the most important piece of equipment a contact sport player should own. The sports guard not only protects your teeth and gums, it can reduce damage around the jaw and your chances of getting concussed. As every mouth is different, so every sports-guard should be moulded to fit perfectly around the top half of a players mouth.
What are the different types of Sport guards?
Custom made sports guards – These are individually made & designed by your dentist. They provide the most comfortable fit & best protection. Your dentist makes an impression of your teeth & then constructs the sports guard on a model of them
Stock Sports Guards – These are inexpensive , they come preformed & ready to use. Unfortunately they do not fit very well. They can be bulky & make breathing difficult.
How long should a sports guard last ?
Sports guards can wear down over time , making them less effective.
Replacing them is especially important for adolescents because their mouths are continuing to grow & develop into adulthood.
It is best to have your guard checked at each six monthly checkup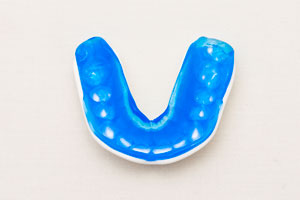 Contact Details
Hazelwood Dental Practice,
Hazelwood Centre,
Glanmire,
Co.Cork
Tel: 021 4866583
Fax: 021 4866583
Email: info@hazelwooddentalpractice.com
Opening Hours
Mon: 8.00am - 7.30pm
Tues: 8.00am -7.30pm
Wed & Thu: 8.00am - 6pm
Fri: 8.00am -6pm
Sat: By appointment only
Sun: Closed
Our early mornings from 8am and late evenings to 7.30pm are by appointment only. This is to accommodate our patients with busy schedules.