Xrays help diagnose common problems such as cavities, gum disease & some types of infections. Radiographs allow dentists to look inside the tooth & beneath the gum to assess the health of the bone & supporting tissues.
Finding and treating dental problems at an early stage can save both time and money.
At Hazelwood Dental we use digital radiography which requires less radiation & allows use to show & explain the findings on computer screen.
Early tooth decay does not tend to show many physical signs. Sometimes the tooth looks healthy, but your dentist will be able to see from an x-ray whether you have any decay under the enamel, any possible infections in the roots, or any bone loss around the tooth.
What can dental x-rays detect?
Find cavities
Look at tooth roots
Check the health of the bony areas around the teeth
Determine if gum disease is an oral care issue
See status of developing teeth
Otherwise monitor good dental health through prevention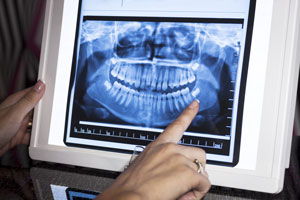 Contact Details
Hazelwood Dental Practice,
Hazelwood Centre,
Glanmire,
Co.Cork
Tel: 021 4866583
Fax: 021 4866583
Email: info@hazelwooddentalpractice.com
Opening Hours
Mon: 8.00am - 7.30pm
Tues: 8.00am -7.30pm
Wed & Thu: 8.00am - 6pm
Fri: 8.00am -6pm
Sat: By appointment only
Sun: Closed
Our early mornings from 8am and late evenings to 7.30pm are by appointment only. This is to accommodate our patients with busy schedules.